Netinary's multi-site access control solution is for any structure wishing to offer Internet access service to multiple remote sites. This solution is the result of Netinary's telecommunications providers solutions, and typically addressed to hotels or residences, service companies, or to companies with scattered offices.
This solution is structured around a central server (Central MultiBox) and light controllers on Site (Site MutiBox) controlling access to internet / intranet users.
In such configuration, all that can be centralized is located at the central server (user databases, management features, ...). Only functions that require the proximity of the user remain local to the Site Controller MultiBox . This solution optimizes the flow, reduce bandwidth requirements while ensuring compliance with legal obligations to store user data. The centralized architecture allows to operate and easily monitor a large number of sites or groups of sites, whether homogeneous or heterogeneous. The flexibility of management tools offers wide possibilities for customization to fit every organization.
Our solution significantly reduces operational and investment costs for the management of such services to a minimum, and makes possible a progressive and scalable deployment with confidence.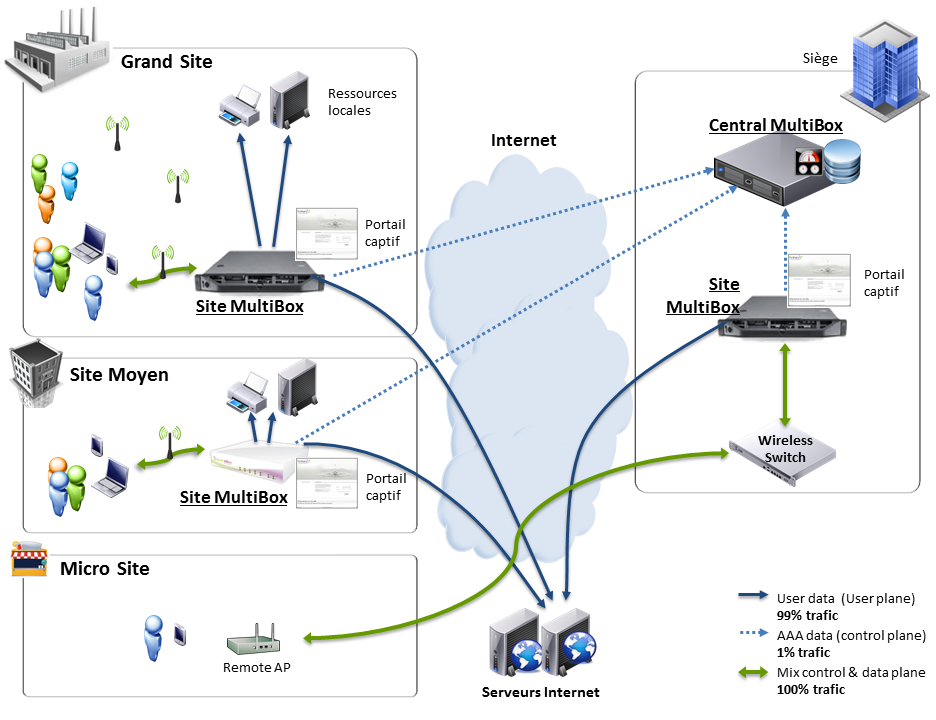 Solution designed to reduce your costs
Reduction of investment costs

Reduction of operating costs

Integrated security
The site MultiBox authenticates users before they access resources. Authentication, as any online payment, are in a secure environment and communication between the user terminal and controller are encrypted (SSL). In addition, a firewall protects against intrusions, and the controller manages the black lists / white lists by IP, protocol and address range.


Integrated Web Filtering
Fully integrated with the MultiBox, Web filtering feature control access based on the user's profile websites (parental control, limited free access, ...). The standard solution offers 5 basic categories where the advanced feature (optional module) has over 90 predefined filtering categories and the administrator has the ability to define new ones. The Multibox automatically updates the categories.

Loadbalancing on WAN links
In the case of sites requiring high bandwidth, Site MultiBox is able to distribute traffic across multiple WAN links (eg several ADSL) to increase the available bandwidth and bearing fault line..

Integrated management of legal obligations
Directive 2006/24/EC of the European Parliament and of the Council of 15 March 2006 requires the backup of user data connections between 6 and 24 months depending on the country and then their removal. The MultiBox allows to collect, store and quickly retrieve information without using an additional product.

Netinary solution is compliant with GDPR, as long as the administrator doesn't configure an uncompliant customized configuration.

Continuity of service / High load
In the case of critical sites to support a large number of users and / or high availability MultiBox a clustered load-balancing helps support thousands of users while ensuring redundancy.  

Optimization of management costs
Centralized management simplifies and optimizes cost and the efficiency of the managed sites (deployment, set ups,monitoring of sites, backups...) Management by group of sites enhances optimization.

Administration Levels
Several administrative levels allow to delegate administrative tasks according to the required skill levels. The reception module (Hostess interface) is standard. This account management interface is fully customizable by the administrator depending on the site or group of sites.

Automation and integrated planning
The user-friendly web interface guides the administrator during the routine management as well as during reporting or during analysis. Most of the tasks can be automated and planned (logs backups, backup configuration, offers activation,…)

Zero config user
"Zero configuration" feature overcomes any configuration work on the user terminal and reducing support needs. All devices are instantly recognized. The MultiBox controls access to the network of the nomadic what matter the configuration (IP address, DNS, proxy settings and messaging). It thus frees technical constraints before and after passage on the site for more comfortable use of the service. 

"A la carte" Management of accounts.
To meet the most diverse connection policies, and allow the most appropriate management of accounts, operators have access to multiple modes of account creation (number, for file import, etc ...). The user can also be completely independent in the use of the service through a customizable portal for self-creation. Validation by SMS, transmission or reception or email checking also improve the traceability of visitors. 
 

… and value-added services
Customizable captive portals
The MultiBox offer many possibilities for customizing captive portals through skins. (Traditional portals login / password, CGU, Auto-login ...). It is also possible to develop portals externally and upload them to the appliance or host them on the Web server. Portals are customizable per site.

Central Portal allow to develop advanced captive portals, centralize it, and delegate zone of configuration to your customers with restricted rights.

Integration with existing databases
A Central MultiBox can interface with external databases, Active Directory or other type, using the LDAP or RADIUS protocols. In addition, the Web Services API facilitates interfaces with third-party business applications. Specific modules are also available for the major PMS and VOD solutions.

Billing
Charging connections may vary according to the site, it can be done on the post of the receptionist (without special software) or directly by credit card, PayPal or PayBox. It is also possible to charge the user directly via business tools already in place through the PMS interfaces, VOD or Web Services API.

"Push content" module
The "Push content" module allows you to target users according to various criteria (service use, user data, ...) and to send them personalized content in real time on their device or via email, SMS, signage ... The MultiBox allows and to integrate WiFi in your Marketing Mix.

Web Services
Web Services API allows interfacing with the MultiBox business applications (badges Management, boarding, ...) existing or future.